Post by Nemo on Feb 12, 2005 3:48:45 GMT -5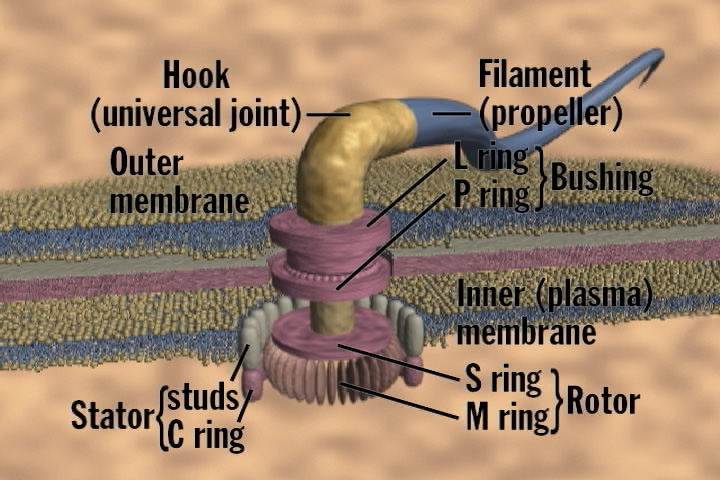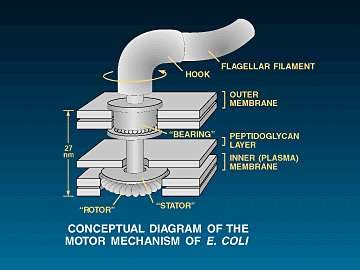 The above is a cartoon and schematic diagram of the bacterial flagellum which has stirred tremendous controversy between Intelligent Design Theorists (IDT) and Darwinists. As a multifunctional engineering marvel, the flagellum is a water cooled outboard motor capable of 100,000 RPMs, stopping on a quarter turn and reversing directions. William Dembski states:


As Matzke himself admits, thousands of research articles have been written about it, many of them trying simply to discover the role and function of its various components. Howard Berg describes the bacterial flagellum as "the most efficient machine in the universe." If a biotech engineering firm were required to draw up blueprints and design specifications for the construction of the bacterial flagellum, it would require thousands of pages (especially if the individual proteins that go into the construction of the flagellum had to be fully specified in terms of their structures, functions, and properties). And yet, somehow, with the Darwinian mechanism in hand, all that design work can be passed over. A "detailed, testable, step-by-step" engineering approach to the construction of the bacterial flagellum would require thousands of pages, and yet a "detailed, testable, step-by-step" Darwinian approach to the construction of the bacterial flagellum requires only 20 pages. On its face, there's something funny going on here.

It is argued by IDer's that this is an example of an irreducibly complex machine to which even Darwin himself viewed as falsifying his theory:

If it could be demonstrated that any complex organ existed which could not possibly have been formed by numerous, successive, slight modifications, my theory would absolutely break down.'

My intent here is to begin a discussion on this topic and return to it later. As a topic leader, however, this is where the debate stands at present:
Matzke published an article criticizing IDT for viewing the flagellum as irreducibly complex:
www.talkdesign.org/faqs/flagellum.html
Dembski and Gene respond here among other places:
www.designinference.com/
www.idthink.net/biot/index.html
www.idthink.net/biot/flag6/index.html
An overview of the debate may be found on the following website. However, it is extremely important that one not confuse IDT with creationism, especially young earth creationism.
nsmserver2.fullerton.edu/departments/chemistry/evolution_creation/web/