Post by Nemo on Mar 5, 2006 20:22:55 GMT -5
These are funny quotes from John Badanes, a chiropractor turned pharmacist. More may be found on the Chirotalk website: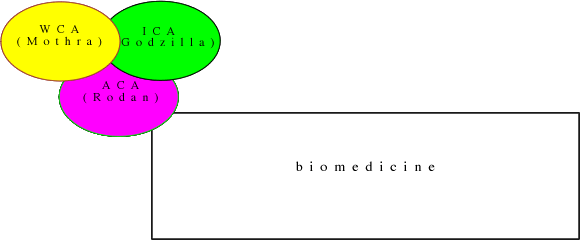 In short, there is no standard of care in the profession. As Forest Gump might say, "A chiropractic office is like a box of chocolates: YOU NEVER KNOW WHAT YOU'RE GOING TO GET!"

Here are some possibilities, though:

Activator Technique (featured on the SAF show)
Logan Basic Technique
Gonstead Technique (featured on the SAF show)
Directional Non-Force Technique (DNFT)
Thompson Technique (that's your student DC)
Pettibon Spinal Biomechanics
NETWORK (you wouldn't believe me if I told you)
Mears Technique
Spinal Stressology (incomparably stunning)
Toftness Technique
Chiropractic Biophysics Technique
Atlas Specific/HIO (Toggle Recoil)
Pierce-Stillwagon Technique
NUCCA Technique
Barge (Tortipelvis/Torticollis) Technique
BioEnergetic Synchronization Technique
Sacral Occipital Technique (SOT)
Applied Kinesiology
Neuro Organizational Technique (NOT)
Perianal Postural Reflex Technique
Meric Technique
Receptor Tonus Technique (NIMMO)
Lemond Brain Stem Technique
Grostic Technique
Neuro Emotional Technique (NET)
Holographic Diagnosis and Treatment etc...plus at least 50 more.

The point here is that for any complaint such as neck or low back pain, you really can't be sure of what you're buying. Equally pertinent from the standpoint of comprehensive health care generally, an MD can not feel confident referring their patients into this Chiropractic Technique Jungle. That's a problem. Further, not a single one of these chirodigms has been shown to be more, or LESS effective than any other one, for ANY condition. Even the CHIROPRACTOR has no basis for choosing one Chiropractic Technique over another (beyond their personal preference), and each MD or self-referral to a chiropractor remains still another random experiment in "science." Indeed, not one of these chirodigms has been demonstrated INDIVIDUALLY to be effective for any particular condition, including diagnoses as common as sprain or strain.


Of course, you might consider what informs this sort of chiropractic free-for-all, if you really want to probe a little more deeply into a chiropractic hornet's nest, that is. Rather than answering the question of what and who is "holding-back" the chiropractic profession (as if chiro-baloney had some place to go OTHER than into a chiropractic sandwich), you might begin wondering how "chiropractic" and chiropractors ever got so far in the first place with practices like those listed above -- all of them grounded in nothing more than chiropractic "say-so."

Then, the "what's strangling the profession" part of the question will come ever more naturally into focus. To wit, you simply can't be this stupid about medical practice and ever expect to be taken seriously. Sure, there are chiropractic astronauts who have defied the odds and flown up above some buildings. But, most chiropractors, equipped with "goggles" and "gloves" actually believe they're ready for space travel. Just ask them and they'll tell you ... "We're doctors, TOO, ya-know (... ya-know)."

FEH.

"Doctor Quackenbush ... your patient is here"
I'm not saying there aren't differences between the chiropractic factions. There are. The WCA chiropractors are the ones wearing the fake "arrow through the head," the ACA DCs are wearing the "Groucho" nose, mustache and glasses, and the ICA meatballs are the chiropractors with the antlers strapped to their heads. But, in case you hadn't noticed, they're all naked -- if not nakedly "chiropractic."